Description
Solar panel charge controller with LCD display specifically designed for motorhomes yachts and caravans.
The SB2C solar panel charge controller is a high specification solar charge controller with LCD. It is one of our best-selling single battery units.  Ensures optimal charging of your batteries.
Can accept solar panels up to 240 watts, 15 amps

Fully automatic.  No setting up routine

Intelligent 3-stage charging:

'Boost' mode to take full advantage of the available sunlight

'Absorption' mode to maximize charge level and prolong battery life

'Float' mode to maintain the battery once it is fully charged

Suitable for all 12 Volt leisure and engine batteries. Liquid or gel types

The SB2C Solar panel charge controller has a large clear display providing continuous reading of solar current and battery voltage

Available in black or light grey to enhance the interior of any motorhome, boat or yacht
No visible fixing screws
Compact design
High reliability
Cables can be concealed by entering from the back of the controller, enhancing the appearance
SunWorks Solar Panels that match the SB2C solar panel charge controller:
Installing a solar charge controller is straightforward. Each controller comes with complete illustrated instructions.
Here are the basics. See the diagrams below:
The controller is mounted inside the boat or vehicle, close to the battery.
A 2-core cable passes through the roof or deck to connect the controller to the solar panel.
Another 2-core cable connects the controller to the battery via a suitable fuse.
Typical connections for a motorhome or caravan: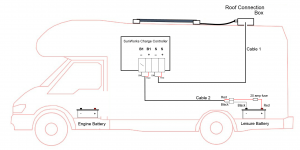 Typical connections for a yacht or narrowboat:
Wiring Accessories:
To help install this controller on your motorhome or boat, we recommend the following items:
Other Accessories:
To make a secure and watertight connection through the roof of your motorhome or the deck of your boat:
If you need any further help or advice concerning this product, please do not hesitate to contact us:

[email protected]