Description
Solar panel regulator SB3Z
The SunWorks solar panel regulator SB3Z is a high performance but economical  unit designed to sit next to your battery, silently optimising the charge from your solar panel array.
Designed specifically for motorhomes, boats and caravans.

Fit and forget. 

Silently optimises the charge from your solar panel

Suitable for solar panels of up to 20 amps, 320 watts
Optional Remote Display Unit. Bright clear LCD keeps you up to date with the performance of your solar system.
Bright LED indicates solar charging mode

Intelligent 3-stage PWM charging:

'Boost' mode to take full advantage of the available sunlight

'Absorption' mode to maximize charge levels, and prolong battery life

'Float' mode to maintain the battery once it is fully charged

High efficiency SunWorks Precision PWM technology

Attractive, compact design
No setting up routine
Easy to install
Compensates for variations in battery temperature
Suitable for all gel/liquid 12V battery types
Proven high reliability
All British design. 

Built to last
SunWorks

 solar panels that suit the SB3Z solar panel regulator:

We can supply rigid aluminium-framed panels, semi-flexible panels and marine grade solar panels. For example:
Installing a solar panel regulator is straightforward for any competent DIY person. Each regulator comes with complete illustrated instructions.
Here are the basics. See the diagrams below:
The regulator is mounted inside the boat or vehicle, close to the battery.
A 2-core cable passes through the roof or deck to connect the regulator to the solar panel.
Another 2-core cable connects the regulator to the battery via a suitable fuse.
Typical connections for a motorhome or caravan: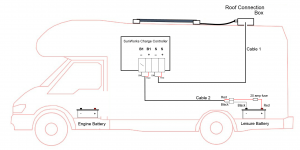 Typical connections for a yacht or narrowboat:
Below we list some useful accessories that will ease the installation of your solar panel system.
Wiring accessories:
To help install the SB3Z solar panel regulator on your motorhome or boat, we recommend the following items:
Other useful accessories:
To make a secure and watertight connection through the roof of your motorhome or the deck of your boat:
If you need any further help or advice concerning this product, please do not hesitate to contact us:

[email protected]