Description
MPPT Solar charge controllers for motorhomes and boats. Made in Germany
MPPT solar charge controllers for motorhomes, sailing yachts and narrowboats. For solar panel arrays up to 25 amps (430 watts).
Optimal charging of lead/acid, AGM, Gel or Lithium batteries
Can also charge your engine battery at 1 amp from the same solar panel
10%-30 % extra use of the solar panel through the MPPT (mean power point tracking) system
Proven high reliability

Intelligent 3-stage charging:

'Boost' mode to take full advantage of the available sunlight

'Absorption' mode to maximise charge levels, and prolong battery life

'Float' mode to maintain the batteries once they are fully charged

Specially designed for motorhomes and boats

Fully automatic.  Very simple setup

LED indicators show charging, battery level and MPPT function

Robust, compact design built for very long life and zero maintenance
Can accept solar panel arrays of up to 430 watts, 25 amps
SunWorks solar panels that suit the MPP430 MPPT solar charge controllers:
We can supply rigid aluminium-framed panels, semi-flexible panels and marine grade solar panels. For example:
Installation information for use with the MPP430 MPPT solar charge controller:
Each controller comes with complete illustrated instructions. Here are the basics:
The controller is mounted inside the boat or motorhome close to either the engine or leisure/domestic battery.
Two wires pass through the roof or deck to connect the controller to the solar panels.
Two wires connect the controller to the battery.
Typical connections for a motorhome: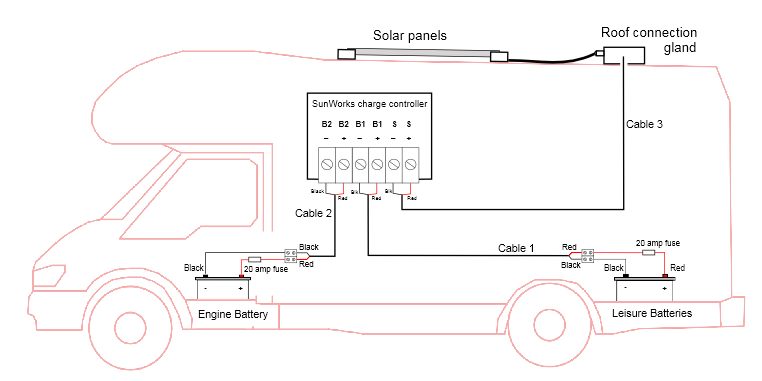 Typical connections for a boat:
Below we list some useful accessories that will ease the installation of your solar panel system.
Wiring accessories:
To help install this solar charge controller on your motorhome or boat, we recommend the following items:
Other useful accessories:
To make a secure and watertight connection through the roof of your motorhome or the deck of your boat:
If you need any further help or advice concerning this product, please do not hesitate to contact us: [email protected]